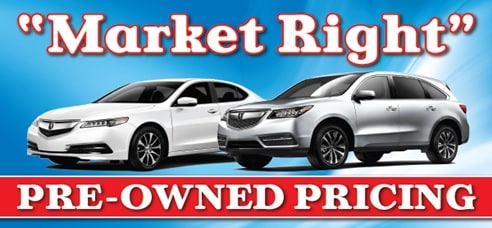 How Market Value Pricing Works For You
Superior Acura in Fairfield, Ohio is committed to giving you a fair deal on our inventory of Pre-Owned vehicles. How do we ensure that our prices are fair and reasonable to our customers? By using Market Value Pricing.
Market Value Pricing allows Superior Acura to answer the question of "What's My Trade Worth" based on real-time, competitive, market-driven prices.
Market Value Pricing at Superior Acura works likes this:
How It Works
Data Analysis - We gather data from over 20,000 used vehicle websites hourly, which allows us to compare our prices to other dealers around the country. This lets us deliver a fair price for every customer at any given time.
No Pricing Games - Unlike other dealers that may artificially inflate their Pre-Owned prices to out-negotiate their customers, we guarantee fair market value. We will show you the Market Value Price analysis so you can see it for yourself.  We can compare prices by year, model, mileage, and region, so you can make sure you are getting the right car at the right price.
Saving Time and Money
For a complimentary Market Value Pricing analysis on any used vehicle in stock, give us a call at (513) 829-8500.  It's Simply that easy!